ADVANCE PLANNING BRIEF TO INDUSTRY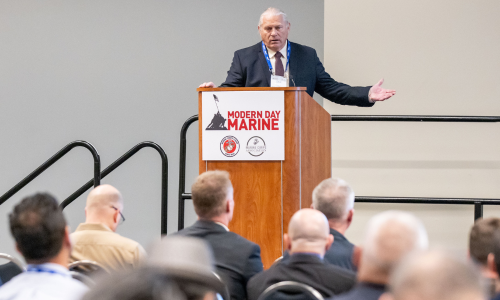 The Advance Planning Brief to Industry (APBI) will entail a full day of interactive key leader presentations from across the scope of Marine Corps Systems Command and Program Executive Office Land Systems Portfolios & Programs. Lunch will be provided, and a mixer will take place upon conclusion of the event. The planned agenda will be available in spring 2024. The APBI is an unclassified forum, but participation is only available to U.S citizens currently employed by U.S. based corporations. Attendance is restricted to exhibitors, non-exhibitors, and Marine Corps Association members.
OBJ 1 WARGAMING CONVENTION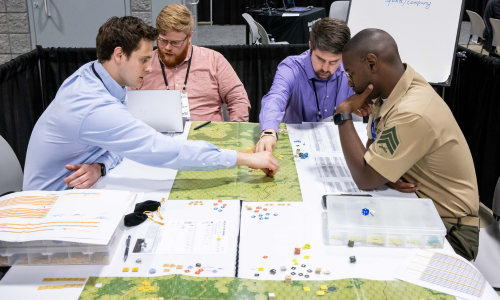 The OBJ 1 Wargaming Convention provides a focused venue for demonstrations, game play, and networking among military wargaming practitioners, designers, and industry. It will include computer-based games and table-top board games.
MAIN BRIEFING CENTER SEMINARS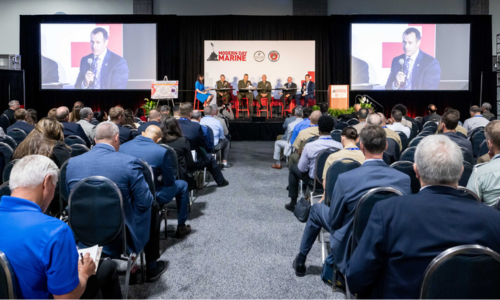 The Main Briefing Center will host numerous speakers from the military and civilian communities to discuss current trends and future procurement issues. Led by MAGTF and Marine Corps Systems Command, briefings are used by attendees and exhibitors alike to formulate their strategies. Former speakers include the Commandant of the Marine Corps, Secretary of the Navy, Commanding General Marine Forces Reserve, and Deputy Commandant Information & Logistics. The presentation schedule and topics will be available in spring 2024.
SEMPER FIDELIS RECEPTION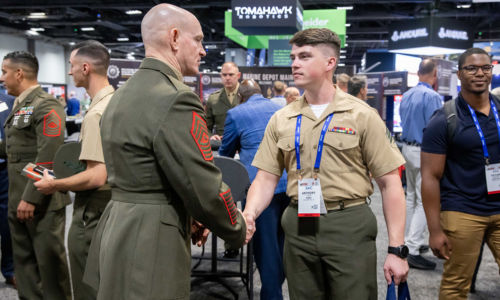 An informal happy hour style networking opportunity to close the final day of the show in the Marine Zone area for all industry and DoD constituent groups. Hosted by SgtMaj Carlos A. Ruiz, SMMC, the reception will include beer, wine, nonalcoholic beverages, and appetizer service.
MILITARY SPOUSE SUMMIT & LUNCHEON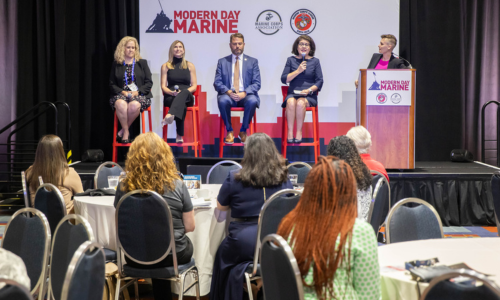 Military spouses seeking employment will be given the opportunity for networking and education in the military industry and beyond. The event will include a buffet brunch, keynote speaker panel, and a networking and resource fair. Attendance is restricted to members of the military and their family members.
GRAND GALA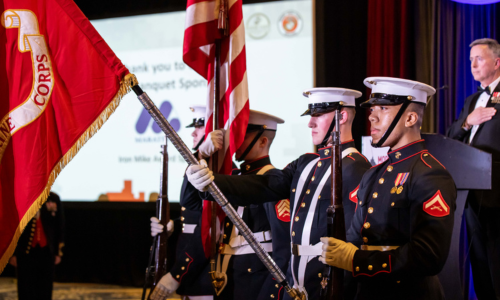 The Grand Gala, held at the Marriott Marquis, is a high value ancillary networking opportunity for exhibitors to connect with Marine Corps leadership, Marine Corps Systems Command personnel and their influencers in the government space. The event will commence at 6:30 PM with a cocktail reception, followed by dinner at 7:30 PM where we will honor the Dickey Chappelle and the Iron Mike Award recipients. Also in attendance will be Enlisted Award recipients and collective leadership from the MDM co-hosts, the Marine Corps Association and the Marine Corps League. All guests will enjoy the pomp and circumstance of the Color Guard of the Marine Corps as well as a performance by "The President's Own" United States Marine Band. Learn more about the Dickey Chappelle and Iron Mike Awards and past recipients here. Attendance is restricted to exhibitors and members of the military. The required attire is black tie for civilians and Evening Dress, Blue Dress A, or equivalent for members of the military.
CONGRESSIONAL BREAKFAST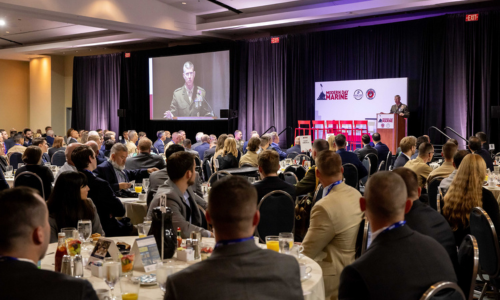 The Modern Day Marine Congressional Breakfast will focus both lawmaker and appropriator attention on the conceptual strategic value of Force Design 2030 as a service level roadmap for rapid transition to a 21st century, naval integrated, "stand in force" for deterrence in restricted seas and complex littoral terrain. Invited guests will include the lawmakers, appropriators and affiliated professional staff who are most instrumental to informing and resourcing the Commandant of the Marine Corps' vision for Force Design 2030. The breakfast will be followed by a private expo hall walk through and wargame demonstrations and game play. Attire is business formal for civilians and Service Charlies or service equivalent for members of the military. Attendance is restricted to exhibitors, non-exhibitors, and members of the military.
MARINE ZONE STAGE PRESENTATIONS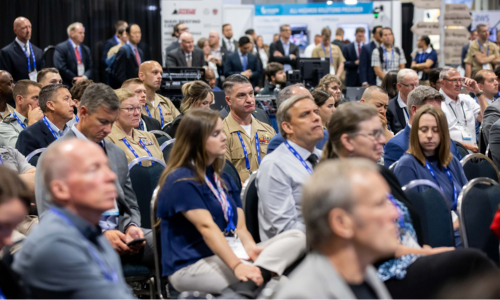 The "Marine Stage" is a new expo hall presentation and networking venue in the midst of the "Marine Zone." The Marine Zone is the area of the floorplan designated for Marine Corps research, experimentation, requirements & acquisitions organizations to display prototypes and interact with MDM participants in a centralized location. The Marine Stage provides Marine Corps and DoD subject matter experts and program managers with a purpose driven forum for short presentations followed by informal networking sessions that will build awareness of programmatic requirements, gaps, and opportunities so that industry can see where they fit and how they can help. The intent is to highlight Service level equity areas critical to the emerging Marine Corps mission set in order to spark substantive questions & meaningful discussion. Four presentations will occur each day of the expo. The presentation schedule will be available in spring 2024.