The following ceremonies and events are open to Modern Day Marine 2023 exhibitors. You must register to attend these ancillary events. The button below will take you to your company's registration profile where you can add "Show Items" for members of your team and yourself to reserve your space.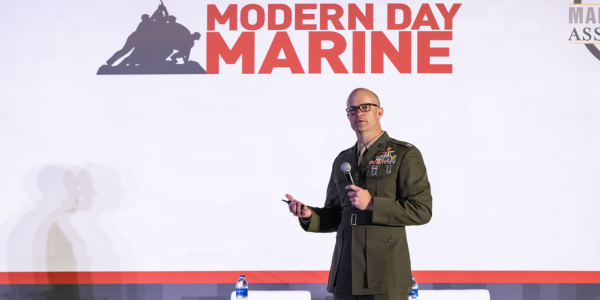 Advance Planning Brief to Industry (APBI)
Monday 26 June 8:00 AM – 5:00 PM
The Advance Planning Brief to Industry (APBI) will entail a full day of interactive key leader presentations across two separate tracks, Port – Ground Programs and Starboard – IT and Comm Programs. Lunch will be provided and a mixer will take place upon conclusion of the event. APBI in person attendance will be available to the first 300 qualified individuals, with the opportunity to attend virtually open to an unlimited number of qualified registrants. The APBI is an unclassified forum, but participation is only available to U.S citizens currently employed by U.S. based corporations.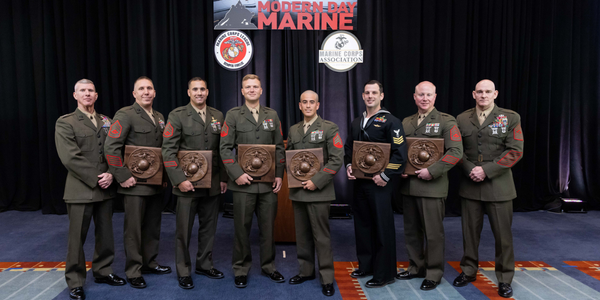 Marines Luncheon & Awards Ceremony
Tuesday 27 June 11:30 AM – 1:00 PM
The Marines Luncheon & Awards Ceremony is designed to provide special recognition for the exceptional contributions of six outstanding U.S. Marines and Sailors currently serving with the Marine Corps. The ceremony will include performances by elements of the Marine Corps Silent Drill Platoon, Drum & Bugle Corps, and the Color Guard of the Marine Corps, and will be attended by Marine Corps leaders, invited foreign dignitaries, a wide range of DoD officials and Industry representatives, as well as the collective leadership of the MDM co-host organizations (the Marine Corps League & the Marine Corps Association). View the list of past award recipients here.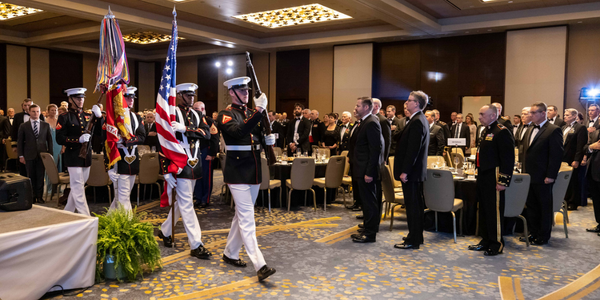 Grand Banquet Reception & Ceremony
Wednesday 28 June 6:30 PM – 9:30 PM
The Grand Banquet, held at the Marriott Marquis, is a high value ancillary networking opportunity for exhibitors to connect with Marine Corps leadership, Marine Corps Systems Command personnel and their influencers in the government space. The event will commence at 6:30 PM with a cocktail reception, followed by dinner at 7:30 PM where we will honor the Dickey Chappelle and the Iron Mike Award recipients. Also in attendance will be Enlisted Award recipients and collective leadership from the MDM co-hosts, the Marine Corps Association and the Marine Corps League. All guests will enjoy the pomp and circumstance of the Color Guard of the Marine Corps as well as a performance by "The President's Own" United States Marine Band. Learn more about the Dickey Chappelle and Iron Mike Awards and past recipients here.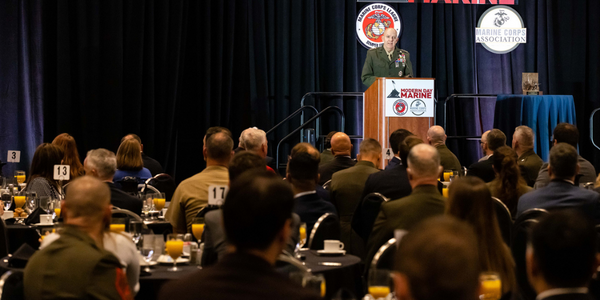 Congressional Breakfast
Thursday 29 June 8:00 AM – 9:30 AM
The Modern Day Marine Congressional Breakfast will focus both lawmaker and appropriator attention on the conceptual strategic value of Force Design 2030 as a service level roadmap for rapid transition to a 21st century, naval integrated, "stand in force" for deterrence in restricted seas and complex littoral terrain. Invited guests will include the lawmakers, appropriators and affiliated professional staff who are most instrumental to informing and resourcing the Commandant of the Marine Corps' vision for Force Design 2030. The breakfast will be followed by a private expo hall walk through and wargame demonstrations and game play.